Due to the concerns of COVID-19, we will not meet at our physical location until further notice.

See online classes & resources available below!
A Note from Kim Trull, Children's Director
We know right now is a time of uncertainty. Things are changing hourly and a lot is unknown. We want to connect and build you up during this time!
Even though the building is closed, the Church is open and we are here for you through every bit of this journey!

The Gift of Time
The one thing I am certain of is that God knew this day would happen and because he loves us so much, he has given us one powerful gift, the gift of time! Between school & sports, after school activities & practices we are so busy that sometimes we miss opportunities. Take this time, this opportunity to speak life into your family! Make family discipleship a priority while you have the time to do it!

Now is the time to put God back into the classroom! You are their teacher and you get to make the schedule. I encourage you to read the Bible together, have family devotions and sing & praise together!

Crossroads Kids Facebook Page: Sunday/Wednesday Services for Kids & Free Resources

Quiet the anxiety by keeping your kids in God's word. Keep your children in worship! Put on some fun worship music and have a dance party! Video the moment and send them in! We would love to compile a video to share on our Crossroads Kids FB page. We are working on a list of resources for families that will be on our website under Crossroads Kids that will include devotions for all ages, coloring resources, prayer resources and much more!

If you're not on Facebook, we have been livestreaming Sunday @ 9:30am & Wednesday @ 6:30pm. Go in and "like" the Crossroads Kids Facebook page to stay connected! Connect with the Crossroads Church Facebook page for adult services and studies. Just click those links to get started! These studies can be done simultaneously from different devices. Our Mission & Ministry hasn't changed, just the way it's communicated! We miss seeing your children's smiling faces each week! Please stay engaged!
Crossroads Kids Weekly Challenges
Each week, we will have a challenge for our kids to participate in. Share and stay connected! It's not too late to participate in this week's CROSSROADS KIDS 3-IN-A-ROW CHALLENGE! For every five children who participate in three challenges, we will pie a staff member live this Sunday (3/22). This is one you won't want to miss! We will be going live Mondays @ 10am to share the details for each upcoming weekly challenge!

Looking for Good
Children have lots of questions! Keep having practical conversations with your children concerning Covid-19. Be mindful of their age and make sure the information they are hearing is age appropriate. Sometimes it's not what they are saying, but what they aren't saying. Nobody knows your child like you! Watch for behavior changes and body language. Keep their routine and structure as consistent as possible. Look for God sightings together! If your child has not experienced VBS at Crossroads before, God Sightings are all of the awesome things God is doing in our life! Like a kind word, doing something thoughtful for someone, just looking for opportunities to share God's goodness! You can write them on paper & tape them on the wall-get creative!

I know that you may be feeling anxious or fearful yourselves.
2 Timothy 1-7 says, "For the Spirit God gave us does not make us timid, but gives us power, love and self-discipline." God wants us to lean to him in our times of trouble. God doesn't call the equipped, he equips the called! Trust me, I have to read this verse daily (especially before a fb live!). Some of you have been called to a new role as a parent. If you trust and lean in to God's word and promises, he will equip you!

We love you, we're here for you, and with God's help we'll pull through this together!
Crossroads Kids is an exciting ministry designed specifically for our Nursery through 5th grade children. We feel honored to partner with parents to provide a foundation of truth that will lead our kids into a growing relationship with Jesus Christ.
Crossroads Nursery is staffed with loving teachers in each service. Familiar faces offer babies the security & love they desire. We take pride in providing a safe, loving environment for Children of all ages.
Our toddler/walker class is designed for little ones 12 months thru 2 years old that are actively walking. The twos classroom is for two year olds and three's not yet potty trained. We learn about God's goodness and the world around us through play, bible time, prayer, songs & crafts.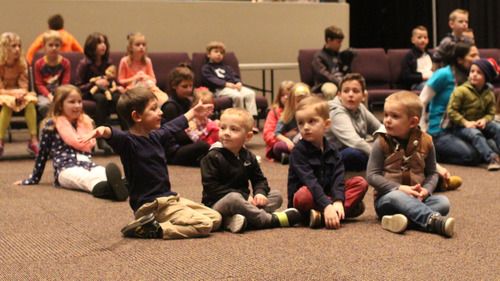 Preschool classes serve children who are three–five that are not yet in Kindergarten. We offer classes that feature fun activities including Bible teaching, crafts and praise & worship in an atmosphere of God's goodness.
Elementary classes experience large group interactive worship & prayer with bi-weekly puppet skits. Our bible lessons are creatively taught in age appropriate small group classes to create an atmosphere where children can grow with God while building relationships with leaders and friends.
We believe in raising kids to be warriors and to stand strong in their faith.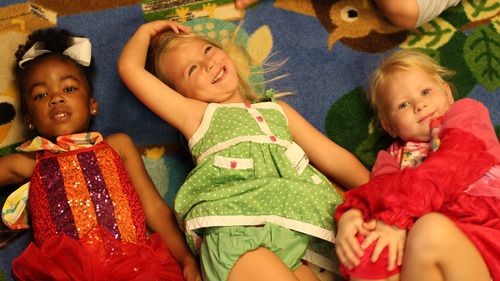 Safety is a top priority at Crossroads. We use a secure check-in system to offer parents a feeling of confidence that their children are in excellent care while they are in our programs at Crossroads. All volunteers that work with children attend safety training & have a current background check. We strive to create an atmosphere where children can grow with God while building relationships with leaders & friends in a safe, engaging environment.
For the protection of all children and volunteers, we ask that you please not place your child in our program if they have experienced the following (or any other signs) of illness within the last 24 hours:
fever
rash
runny nose
cough
diarrhea
Ways to stay connected with us